Level 5 Diploma in Business Management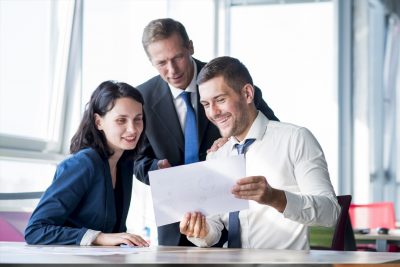 About Course
Overview
The Level 5 Qualification Diploma in Business Management is designed to enhance learners ' understanding of management in the general business context. It will equip learners to find employment in general business with junior management prospects or to continue professional or academic studies in a related area.
The main goal of the Level 5 Business Management Qualification Diploma is to provide an excellent basis for a career in a range of organizations for the learners. It was designed to ensure that each learner is 'business ready': a confident, independent thinker with detailed business and management knowledge, and equipped with the abilities to adapt to change quickly.
Qualification
Enrolling in Level 5 in business management provides the opportunity to achieve a nationally recognized Level 5 Diploma Qualification;
Start date: We enroll 365 days a year at any time.
Relevant NQF / QCF / RQF Level 4 Award / Diploma, or at GCE / GCSE or equivalent level
The learner must be 18 years of age or older.
A basic English level may be required for this program.
Who is it for?
The qualification content focuses on people management, project management, marketing, management finance, business law, business ethics, and social responsibility. The qualification is ideal for those who have started a career in the private or public sector business or are planning to move in. Successful completion of the qualification of Level 5 Diploma in Business Management will give learners the opportunity to progress towards further study or employment.
What do we do?
All our students are given access via their own personal login and password to our online campus. Once logged in, you can access the materials, lessons, resources, and assignments of your course in your own time. Assignments are uploaded via your account, and the process is intuitive and simple. Our Campus Online includes:
Access to all the materials of your course 24/7/365 that includes: All lessons, assignments, and resources. that are available from the moment you enroll.
Access to your course immediately after you enroll-start studying straight away!
Integrated messaging and chat systems, so you can contact your tutor Anytime! Anywhere!
Online assignment uploads to save time and feedback on return marks.
Links to available additional resources and course information
Self-led learning in all courses-study your own time and work at your own pace through your assignments
Our secure servers keep a safe e-portfolio of your work under lock and key systems.
Progress bar to show the work you've done and how many tasks you still have to complete during your course.
Detailed assistance center with step–by–step instructions on how to get the most out of your course and upload assignments and contact your tutor.
Course Contents
The Level 5 Diploma in Business Management consists of the following 6 mandatory units that provide a total of 120 credits and 480 Guided Learning Hours (GLH) for the completed qualification.
Level 5 Diploma in Business Management Mandatory Units
| | |
| --- | --- |
| Units | Credits |
| Human Resource Management | 20 Credits |
| Project Management | 20 Credits |
| Marketing Management and Planning | 20 Credits |
| Financial Accounting | 20 Credits |
| Business Law | 20 Credits |
| Corporate Social Responsibility and Governance | 20 Credits |
Learning Outcomes
Gain the ability to understand the difference between management and leadership
Develop your knowledge of professional-level HR and people management skills
Equipped with advanced time-management and conflict-management skills
Have a firm understanding of the purpose and value of risk management
Gain the confidence to address workforce performance issues
Develop product planning, marketing, and administration skills
Promote exceptional interpersonal communication skills and build a motivated workforce
Have the confidence to pursue or advance an existing business career
Be able to inspire your team to achieve their potential
Identify the skills needed to succeed in your day-to-day business operations
Be able to expertly manage your finances
Motivate your staff to get the best out of them and improve productivity
Assessments
The Center assesses all units within this qualification internally. Qualifications are referenced criterion, based on achieving all of the specified learning outcomes.
To achieve a 'pass' for a unit, learners must provide evidence to show that they have met all of the learning outcomes and meet the standards specified by all of the evaluation criteria. The Assessor makes a judgment that the learners have met the assessment criteria successfully. The Assessor should provide an audit trail showing how the overall achievement of the judgment of the learners has been achieved.
Evidence: This qualification is assessed by Two parts of examinations
Part One- Once each module is completed you will be provided with the details for each written assessment. Each assessment is between 3000 – 5000 words long.
Part Two- Learners will be required to complete 45 multiple choice questions within 90 minutes. Successful learners will have to demonstrate knowledge and understanding across the qualification curriculum and reach a 66 percent pass mark (30/45). Learners will receive a distinction if they reach a pass mark of 80 percent (36/45).
Career path
An internationally recognized qualification in business management will open doors to a wide range of professional industries. Students may also want to consider related roles in this field such as the following:
Administrative Assistant
Account Executive
Branch Manager
Business Management Reporting Lead
Office Clerk
International Business Manager
File Clerk
Administrative Specialist
Auditing Clerk
Business Development Manager
Office Manager
Quality Control Coordinator.
Course fees
£999 including VAT
Exams/ Assessments are included in the price.
Unlimited tutor support is included in the price.
Course Format: Online/Classroom.
Course Duration: 6 to 12 months.
Show More
Course Content
Student Ratings & Reviews
No Review Yet